WHAT IS MICRODERMABRASION?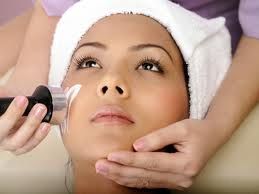 M
icrodermabrasion is a process that exfoliates the skin by abrading it with micro crystals.

 

The use of crystal will eliminate dead skin cells, promotes new growth, and create a healthier and more youthful complexion. Intensified treatment with daily use of glycolic products for three (3) to six (6)
months will re
surface the outer corneum and help the skin to look younger and healthier.

 

Resurfacing the skin with advance technique and equipment could reverse some of the sun damage skin; however, continued sun exposure without sunscreen protection will negate this repair process.

 

Advance resurfacing technique and sun protection must go hand-in-hand.

 

 

After the microdermabrasion, the skin will manifest a slight tightness and pinkness.

 

Proper home care will be very critical for optimal regeneration of the skin.

 

The largest part of public acceptance of microdermabrasion is that it is painless and quick with little to no redness or irritation.
WHY IS MICRODERMABRASION IS AN ADVANTAGE PROCEDURE?
Microdermabrasion promotes:
· Eradication of fine lines and softening of deeper wrinkles
· Lessens hyper pigmentation (Melasma, age spots)
· Healing trauma scars
· Repairs Photo trauma (Sun Damage)
· Pore size reduction
· Heels active acne
· Softening of superficial scars
Microdermabrasion is ideal for:
· People who do not have the option to take time off for healing as is necessary with many chemical or laser treatments
· For oily, acne-prone skin that is not improved by other acne remedies
· Sensitive skin that reacts to make-up or chemicals
WHY CRYSTAL-FREE MICRODERMABRASION IS SO POPULAR?
Microdermabrasion is the highest volume non-invasive aesthetic procedure requested by patients.  The procedure has proven to be clinically effective to treat or diminished:
· Dry or Patchy Skin
· Oily Skin
· Fine Lines and Wrinkles
· Sun Damaged Skin
· Hyper Pigmentation
· Superficial Age Spots
· Acne Prone Skin and Acne Scars
· Blackheads & Whiteheads
· Post Laser Blending
· Certain Types of Stretch Marks
· Certain Types of Scar Tissue
HOW YOU BENEFIT FROM HAVING A MICRODERMABRASION PROCEDURE DONE?
· Non-Invasive
· Virtually Painless
· No Recovery Time
· No Hazardous Chemicals or Lasers
· Minimal Risk
· No Anesthesia Required
· Treats All Skin Types 

With the advanced engineering technology of our microdermabrasion machine from Germany is a safe, effective and precise epidermal exfoliation skin care device, utilizing microdermabrasion to minimize and remove many skin imperfections.  It is also an effective treatment to improved the appearance of fine lines and wrinkles, brown spots, scars, and acne blemishes. It removes layers containing concentrations of pigmented spots and reduces the dull appearance of the skin.  A series of treatments with this machine create the best results, allowing for a more effective and a focus on your individual skin condition and goal.  The procedure in this machine is fast, predictable and painless.